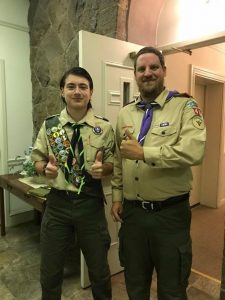 Congratulations to Vinny Teti for completing his Eagle Scout Board of Review last night!  Vinny's project was to completely overhaul the veterans monuments area at the Barrington Municipal Building. He put in a new brick patio, moved the flagpoles to center them, redid much of the gardening, put in new benches, and cleaned up the monuments. Huge project to take on, and it looks great now.
For those keeping score at home, Vinny becomes the 122nd Eagle Scout in Troop 48 history!
I and we are all very proud of you and your accomplishments Vinny!
Mike McCormick, Eagle Scout