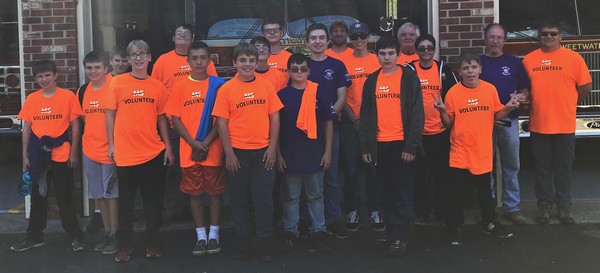 MS City-to-Shore Trip
September 2018
by Scout Scoutly
In September, Troop 48 headed down toward the shore to participate in another year of the MS City-to-Shore Ride. On Saturday, we went to the Sweetwater Fire Company, where we spent the morning running the rest stop for more than 1,000 riders, setting up tables, handing out water and food, and then breaking everything down again.
Meanwhile, Magnus rode 100 miles from Cherry Hill to Ocean City, raising over $1,500 for the Multiple Sclerosis Society in the process.
That night, we headed to Ocean City Boardwalk for a night of spaghetti and fun.
On Sunday, we were up early, broke camp, and headed to Hammonton. There, Troop 48 spent all morning and part of the afternoon helping out all over again, as thousands of riders headed from Ocean City to Cherry Hill.
Overall, the riders and the MS Society could not have been more thankful for all
the great help that Troop 48 provided. Great job Scouts