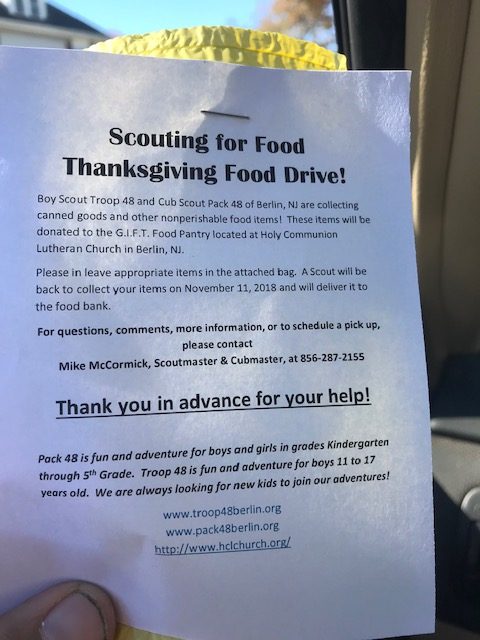 Troop 48 is collecting food for the food pantry in Berlin! How can you help?
We put out 1000 bags today in Berlin Borough and Township. If you received a bag, just leave it out on your steps (feel free to add more bags to it!) next Sunday, November 11th, and we'll pick it up from you!
If we didn't leave bags at your door, you can…
1) Drop them off the Wednesday night (11/7) at "the shed" at Holy Communion Lutheran Church on Route 73 in Berlin between 7 and 8 PM. If you don't know where "the shed" is, call Mike at 856-287-2155 when you pull into the church parking lot and we'll come grab your donations! We cannot collect donations at this location other days,
2) Drop them off Thursday night (11/8) at the Berlin VFW (34 Chestnut Ave, Berlin, NJ) between 7 PM and 7:45 PM! We cannot collect donations at this location other days or times.
3) If you are in Berlin Borough or Township, contact Scoutmaster Mike McCormick via email [email protected]om or text 856-287-2155 by Friday night with your address and which town you are in, and we'll have someone pick bagged donations up off of your porch on Sunday morning!
Thank you everyone for any donations you can help with! Shares on social media also appreciated!